In January, I wrote a piece about the best prog albums of 2016 on my old blog and Vektor's Terminal Redux came out clearly on the top. Unfortunately, none of the 2017 releases have so far come close to that masterpiece. Doesn't imply that it's been a shit year, far from it in fact, there have been some excellent releases so far and almost all of them in this list I would rate at a solid 4 / 5. Strap up!
Elder – Reflections of a Floating World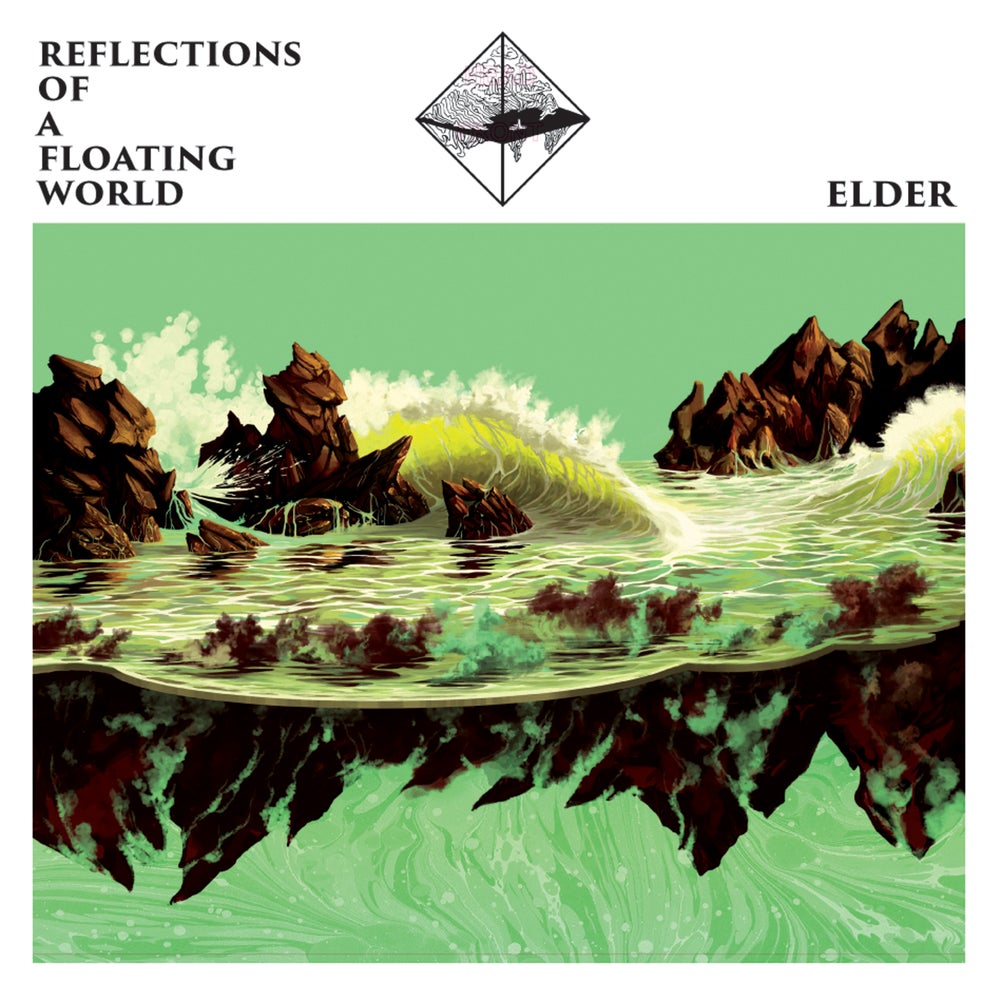 Elder is originally a stoner rock three-piece band from Massachusetts, United States. I started off listening to this album before exploring backwards the rest of their discography. Dead Roots Stirring and Lore are absolute masterpieces, and with the band going more into progressive territory, I can imagine expectations for their 2017 release, Reflections of a Floating World were sky high (or shall I say ocean deep). And boy have they fulfilled them. Gone are the days where the songs were rooted purely on riffage: There's much more texture in the instruments, so much so that I've read fans categorizing the album as post-metal. If anything, the album opener, the stunning 12-minute Sanctuary goes back to their roots (Dead Roots more like) and is a riff spewing monster. But the next three songs are definitely more progressive releases, ensuring adequate build up and great linkage between their signature riffs, of course. My favourite is the one at the end of Blind. It builds up so perfectly from 11:00 with subtle guitar work before blasting into a scorcher of a riff at 12:25. Sonntag is the album surprise package, and is wierdly addictive. Thousand Hands feels like more traditional Elder after this 6-song journey of an album, and what a journey it is.
Extra points for the stunning cover.
Also, hoping to see and review Elder at Glaz'art, Paris at the end of this month. Gonna be fun!
Harshness Level : 1 – 2
Persefone – Aathma
There are a only few things I know about Andorra: It is enveloped by France and Spain and it has some good ski resorts. And, oh yeah, it is the birthplace of Persefone.  This progressive melodeath band has mellowed the theme of its music after its breakthrough with Core. Shin-ken has Japanese influences and Spiritual Migration and now Aathma have, as you could guess, spiritually influenced lyrics. What isn't mellow however is their music. The first song I heard before exploring their discography was Prison Skin. Took me a few tries to get adjusted to the harsh vocals, but soon the complexity and the genius of it hit me. Once I got to hear the entire album itself (and even more so after 10 runs), right in March I was convinced this album is going to end up on my Prog AOTY end of year list. The album is extremely coherent, balancing complex riffage, harsh and clean vocals (which has improved a LOT over previous releases) and beautiful piano pieces. It has an brilliant cameo by Paul Masvidal with a solo and his Cynic vocals in one of the album highlights, Living Waves (Video below). And of course, there's the 20-minute masterpiece that is Aathma, perhaps their greatest song ever.
Unfortunately this band isn't very popular despite having some of the most talented musicians out there: They have to take up part-time jobs to cover their costs. In fact, Aathma was mostly crowdfunded. So if you enjoy their music, spread the word!
Harshness Level : 3
Igorrr – Savage Sinusoid
Igorrr gives no fucks. Gautier gathers some talented musicians, and makes some absolutely ridiculous amalgamation of black metal screams and blast beats with pretty much anything out there. Oh and that includes some classical opera vocals by Laure Le Prunenec of Corpo Mente, making a comeback after being involved in arguably Igorrr's most popular song (and album) to date – Tout Petit Moineau. Savage Sinusoid is an absolute blast of an album. It starts off with Viande and SCREAMS. Yup, next time you're listening to Igorrr make sure you've inserted the headphones correctly in, so people around don't think you've lost it. The album's mostly madness – Screams, Electronic releases – drops, Blast Beats, Accordion tunes, you name it. Ieud, Cheval and Robert in particular are works of some twisted genius. And there's some songs that attempt of course to bring you back to sanity  – Problème d'émotion and Au Revoir. If you've always wanted to hear metal combined with electronic music, Igorrr is for you. You get some madness on the side, as well, so even better.
Harshness Level : 2 – 3 (This is a weird one to judge because it's not particularly harsh but the screams are bound to disturb prog rock fans)
Soen – Lykaia
Soen has been criticized for its originality in the past releases of Cognitive and Tellurian, some going to the extent of calling them a Tool cover band. Fortunately I've never heard the older albums but have heard Lykaia, which is anything but a Tool cover album. Martin Lopez's influence is clearly felt here, especially with the few latin and oriental themed tunes. This album feels more modern Opeth than Tool. And this album is better than everything the latter has done bar Pale Communion. The instruments are crisp and work extremely well with the melancholic vocals of Joel Ekelöf . Also love the Bass track (Stefan Stenberg) of the entire album, audible and memorable. While Sectarian is a good starter (and is clearly influenced from Ghost Reveries, particularly from 3:37) , Orison is where things build up very well. There's no weak song here, with the three tracks of Jinn, Sister and Stray being my favourite, can't really choose between them.
Opeth and Tool fans would appreciate it? Of course they will, but this is really for everyone.
Harshness Level : 1 – 2 
Mastodon –  Emperor of Sand
The last spot is really a close one between Ayreon's The Source and this. Instead of going the hipster route, I choose the album that I enjoyed more. Yes, it's true that it has an absolute stinker of a track that is "Show Yourself", one which almost made me lose faith in Mastodon. For what it is worth, this song reached number 4 on the US Billboard Mainstream Rock Songs chart in 2017, so you can see my tastes clearly differ from what's popular out there. The rest of the album is brilliant. I'm a huge fan of literally all of their releases, and even though I appreciate more their rough and aggressive older albums (Leviathan in particular) and their progressive one in Crack the Skye, I've always liked their trippy riffs and Brann's drum fills, I could listen to those fills till the end of time. Sultan's Curse is a concept album involving a desert wanderer. Been awhile since I listened to the album but remember liking the lyrics and the story. There's definitely a change in style compared to Once More 'Round the Sun focussing more on heavier riffs, with Roots Remain in particular reminding me of Blood Mountain. Also the usage of all the members in the vocals is brilliant, it really makes each song unique and memorable. Specially, love Brann's vocals in "Steambreather". After "Show Yourself", the album is consistently good, with my favorite track being "Andromeda" – which has a great Leviathan feel to it (minus the cleanish vocals of course).
Harshness Level : 2
Other Contenders
Ayreon – The Source
(This one as I said was really close and fully expect it to contend for the end of the year AOTYs)
Pain of Salvation –  In the Passing Light of the Day
Disperse – Foreword